Posted by shan | Filed under me, music
in exactly 12 days, i will be on a plane that is just about to land in tokyo. tokyo!!
i've had a love affair with japan for as long as i can remember, probably dating back to the exchange student who lived with us for a year when i was about five years old. this is me in the kimono she gave me, which still hangs in my wardrobe today.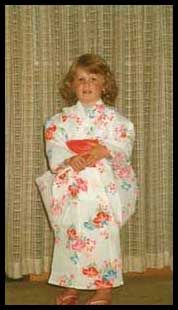 we're going for three weeks, and the itinerary is: tokyo > osaka > fukuoka > hiroshima > kyoto > takayama > nagano > tokyo.
i'm looking forward to kyoto most of all, but it's a shame we won't be there in march to see the cherry blossoms. we'll be seeing a sumo tournament in fukuoka, a monkey park in nagano, and the ghibli museum in tokyo, and… so many other things. i'm so excited!
i've been passing the days by listening to this song over and over. it has nothing to do with japan, i just love it.