Posted by shan | Filed under me, stuff
after craving one for months, i finally caved and got myself an iphone. technically my phone contract isn't up until august, but i decided i just couldn't wait any longer. i have to pay out a little bit of money on my current plan, but i think it's worth it.
i think the final straw came last thursday, when i received a convo on etsy about an urgent custom order while i was at work. i could check my email on my current phone, but couldn't log into etsy to reply to it. our internet usage at work is heavily monitored, so again i couldn't log in to reply. the order was for 25 bookmarks, which needed to be in america by april 3, so i would need to send them the next day (friday) to have any real chance of guaranteeing their arrival. so i replied when i got home to clarify some details and check whether they still wanted to proceed, then i didn't receive a reply until i was at work on the friday that they wanted to go ahead. i was able to quickly duck home inbetween some meetings and pick everything up and get it sent off, but i realised that if i had an iphone i'd have been able to sort it all out on thursday with no problems.
so, i caved. it arrived this morning and i just can't stop playing with it. best toy ever.
and look! now i can show you photos of things i'm working on with relative ease (ie. no cables. i hate plugging stuff in).
i'm working on a few collage type pieces, and still playing around with exactly what i want to use. i've been making a lot of smaller gift tags to include with my orders, and i made these yellow ones late last night. but i love the paper so much, i think i might keep them for a bigger piece that i'm working on.
Tags: craft, in progress, iphone
Posted by shan | Filed under pretty things, stuff
by pure luck, i saw someone in the etsy forums say that treasury was open in 1 minute, so i thought i'd give it a shot.
i made this: autumn afternoons. cause, dammit, not everyone is going into spring. it breaks my heart a little to see all the gorgeous colours and fashions all over etsy at the moment, while we're about to head into the cold.
Posted by shan | Filed under pretty things, want
i can't help it, i'm totally obsessed with yellow at the moment. i just love the combination of yellow and grey that i'm seeing pop up in so many places. grey is so dreary, it's basically the coloursonification (not a word, i know) of winter. and, well, i hate winter. but yellow! yellow is sunshine and light and warmth and all things that are good in the world.
i first noticed yellow + grey together a few months ago, when i saw kikki k had a whole range of the two colours together.
now that i think about it, i can probably trace my yellow love back to about september last year, when i was looking at furniture to purchase when i moved. i found this hemnes linen cupboard from ikea, and was instantly smitten.
i still haven't been quite able to justify the $429 price tag, so for now, my apartment is without this cupboard. but one day, one day, i will own this. ok, so there's no grey, but there's plenty of yellow.
what do i love more than yellow? elephants! from etsy seller ellabellamay.
and finally, this. i'll just take this whole room please.
from housetohome
i love that wallpaper, and the chair, and the rug, and the high ceiling and the big windows, and the… just all of it.
Tags: grey, house, want, yellow
Posted by shan | Filed under pretty things, want
@etsy: Project: Make an Etsy Mini as a blog post using your favorites, tweet the link so I can peek tomorrow.
i add multitudes of new favourites almost every day.
it's a good mix of things i love and plan on buying one day, things i love and simply can't afford, things i want to remember later on, and things i just love to look at. i'm actually surprised by how often i find myself going through my favourites, it happens quite regularly.
Tags: etsy, favourites, pretty
Posted by shan | Filed under me, pretty things
tim and i often like to comment on how good we are at weekends, and this one is no exception. we made pancakes this morning (no chicken sightings, unfortunately) and then decided to head into the art gallery of nsw to check out the korean dreams: paintings and screens of the joseon dynasty exhibit. we were at the art gallery only a few weeks ago for the genji exhibit, which i so loved. i loved it so much that tim bought me a framed print of pine tree after snow, which now hangs proudly on my bedroom wall.

pine tree after snow by kawase hasui, 1929
today at the korean exhibit, i fell in love with this:

a pair of peacocks, 1700-1800s
"Two peacocks dance in courtship beneath pairs of magnificently blooming peonies. Peacocks were one of the many symbols of longevity in Korean culture; thus this image expresses the blessing of the marital bond enduring through passing years. The combination of the feminine forms of the flowers and the masculine rocks evokes a harmonious balance of yin and yang that characterises the ideal marital relationship."
now if only i could find a print of it for my wall.
Tags: art, pretty things
Posted by shan | Filed under pretty things
no, i can't handle that much alliteration in one week.
i've never been a big thrift/op shop/ second hand kinda gal, but i found these in my local salvation army store the other day for only $2 each and was instantly smitten. bright blue vases, perfect for holding a single long-stemmed flower.
i haven't decided exactly what to do with them yet, but i just love how bright they are. easily the best $6 i've spent in a long while.
Tags: blue, pretty things, thrift, vase
Posted by shan | Filed under pretty things, want
technically it is now thursday, but i've spent all night prettifying the blog and didn't get a chance to do this earlier.
i introduce to you a new, and hopefully regular, section: wednesday want. basically, i post pretty things! yay! on wednesdays, if i remember.
it's getting colder. summer is winding down, the mornings are getting chilly, i find myself drinking more tea than normal. so my very first wednesday want will be all about how much winter sucks, and the few little things we can do to make those horrid months just a bit more enjoyable.
tea itself is already quite enjoyable, but can you imagine how much more fun it would be with a pretend moustache? want want want. from etsy seller breadandbadger.
i'm currently in love with yellow, and this scarf would look gorgeous with the fabulous winter coat i plan on buying this season (yet to be determined). from etsy seller beautifulbridget.
is it wrong that peter alexander is my favourite australian designer? he's fantastic. it's all about comfort, luxury, and being completely affordable. love it. to be honest, i could have picked any pair in the store, but i really love the various pink and purple shades in these. from peter alexander.
i would be very surprised if i ever wore these, but i think they're simply adorable and would love to own them. does that make sense? i guess they're not really my type, and not something i would normally wear, but i can't stop wanting them. from etsy seller stopsandstarts.
i'm after a bright coat for this winter. i've got my eye on a few in blue and purple, but would really love a gorgeous mint green coat, if anyone can find one. can you tell i watch too much gossip girl? but this grey jacket, i adore. and how nice would it look with the yellow scarf above. ahhh, WANT. from witchery.
Tags: clothes, pyjamas, want, wednesday, winter sucks
Posted by shan | Filed under pretty things
i've been spending a ridiculous amount of time on etsy lately, and as a result i'm spending an even more ridiculous amount of time thinking about interior decorating. i'm still stuck in rent land with my unpainted walls and forbidden hooks, so at the moment it's nothing but a dream.
my cancerian horoscope analysis has always mentioned being very strongly tied to the home, and it's not something i've ever really paid attention to, but now i'm just MUST BE SURROUNDED BY PRETTY THINGS RIGHT NOW.
#1 on my wishlist is having a chandelier in my bathroom. my current rented bathroom doesn't even have two full-size doors*, so a chandelier is a little out of the question. but isn't this just the most ridiculously self-indulgent thing you could possibly do? i love it.
from apartment therapy: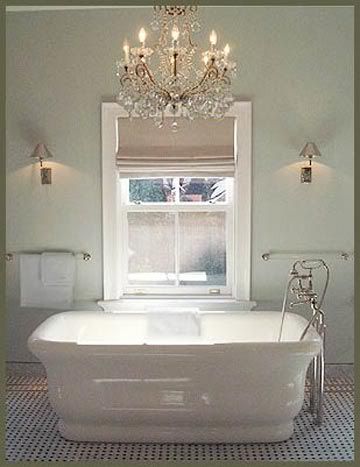 *my bathroom doors are western style saloon doors. they swing, and only cover the torso. i'm not even making this up.
Tags: chandelier, etsy, home, ridiculous